Every decade has something that makes it special, whether it be the music of that era, the fashion trends that everyone was wearing, or just the great products that were first released and now are considered either obsolete or have gone on to be even better today. Whether you and your loved one lived through the 80's and have many fond memories, or they love everything retro, the following ideas for great Valentine's Day gifts for them will help you find the perfect one.
Choose The Best Valentine's Day Gift For 80s Lovers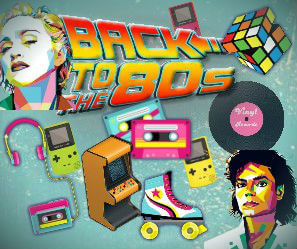 Music Collection – There are a number of music collections that are entirely 80's music, from the greatest hits of that era to some of the lesser known tracks, and everything in between. Just listening to an 80's music collection will bring back so many memories for those who listened to that same music back then, or will introduce a big retro junkie to some cool music that they may not have heard before. If you want to take it one step further for a retro fan get the collection on cassette tape so they can go retro all the way. An alternative idea is to make a mixed tape of all your love's favorite 80's tunes.
Novelty Telephone – During the 80's kids were beginning to get telephones in their own bedrooms, but we aren't talking about the standard rotary or button telephone. These were funny, cute, novelty telephones, in all different shapes like red lips, in the shape of characters like Disney cartoons, race cars and much more. Though not many people still maintain a landline telephone a novelty one is good for its decorative value alone. This would be the perfect Valentine's Day gift to give your special someone so they can start a collection of novelty phones and you can give them a new one to add to the collection every Valentine's Day going forward.


Perfume or Cologne – Some of the perfumes and colognes that were a big hit during the 80's are still available today. If you can't find one that is still being made and sold today you may be able to find a bottle on eBay. Sometimes you will find a bottle that was never used, or one that has been partially used but is still in good condition, or if your loved one is a collector of things from the 80's eBay may also have some empty bottles that you could purchase and bundle together to make a small collection for him or her to display.
Anything Pac Man – As one of the very first video games people would probably never believed that Pac Man was just the beginning of what has now become a household standard. Pac Man was very technologically advanced for its time but today the game is an icon of the 80's and therefore very collectible. Besides from being cute anything to do with Pac Man is likely to be desirable by someone who remembers playing the game when it first became available. There are a number of items you could give that person as a Valentine's Day gift: for women a necklace with the cute character on it as a pendant, and for a man a key ring.
Roller Skates – One of the fun things that couples in love would do is go roller skating. Even though it may have been many years since you and your loved one have laced up a pair of roller skates giving your loved one a pair and taking them to the nearest roller skating rink will be a fun way to take a trip down memory lane. You could try asking the person in charge of the music to play some old 80's music to really take you both back in time. For those who have never tried roller skating it is a fun activity to do for the first time. It is also a good way to stay fit so you and your love may find that it is something you want to do again.
Pinball Machine – Before video games began kids would go to the arcade and play pinball machines. For many people who love everything to do with the 80's having their very own pinball machine will be exciting and fun. Many people restore old machines and you may find one in a store that sells vintage items. A pinball machine that has been faithfully restored to return it to its former glory will be a timeless piece of days gone by and a great addition to your loved one's game room. This is the type of Valentine gift that is going to take some extensive searching to find exactly what you want, and when you do you are going to have to be prepared to hide it somewhere your love can't find it until Valentine's Day when you can give it to them.