Ah, the 90's! What a great decade to have been born into, lived through and to look back on with fond memories. For some it was a time that meant a lot to them, particularly if they were dating, falling in love and living a life that was jam-packed with fun times. For others it was a time they have heard their parents talk about and wondered what it would be like to have lived in the 90's. For others stills it is a time that appeals to their love of all things retro. If you are looking for a gift for anyone who loves the 90's and everything about that magical decade, then the following ideas should help you find them the perfect 90's inspired Valentine's Day gift.
Amazing Valentine's Day Gifts For 90's Lovers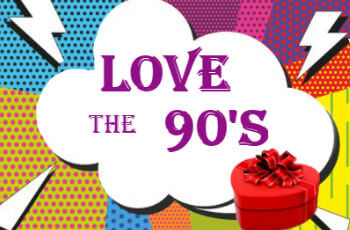 Conversation Hearts Candy – This candy with sweet messages printed on them was the kind of Valentine gift that school kids would give to each other in class, but it was also a standard item given to girls and women of all ages by their sweethearts. Back then there was no choice in what was printed on the candy but today there are companies that will print the message or messages that you instruct them to. This silly but romantic throwback to the past is likely to make someone you love smile both at the candy and at the memory it invokes in those who lived through that time.
A Mix Tape – To give a loved one a mix tape of all their favorite songs was about as serious a declaration of a person's feelings as you could get back in the 90's. It took a lot of effort to record music tracks onto a cassette tape, a far cry from how easy it is to download and store music tracks on an mp4 player or cell phone. It was the very time and effort it took, and being aware of the songs that would make their loved one happy, that made a simple little thing as a mix tape so valuable to the lucky person who was given one. Today, while it may be a lot easier to make, putting some favorite 90's tunes onto a cassette tape is still a Valentine's gift that many would enjoy receiving.
Movie Posters – Some of the best movies ever made were released during the 90's, breaking box office records and playing to packed theaters across not only the USA but in many other countries around the world. The likes of Titanic, Silence of the Lambs, Forrest Gump and Pulp Fiction are movies that are now considered classic, and are still enjoyable to watch today. The actual movies are readily available to view online but the movie posters are a lot harder to come by. Ebay is a good place to look for a poster of your loved one's favorite movie of that decade. Once you receive it, get it mounted and framed and your love will have something special that they will most certainly treasure.
Tickle Me Elmo – This was one of the most adorable toys to ever come out of the 1990's (1996) and it is perhaps no surprise that the modern version is entertaining and delighting kids still. Talking, or animated, toys were still fairly new and so kids were fascinated and entranced watching and listening to them. Elmo in particular was a favorite because of the highly successful Sesame Street television show that has entertained children for several decades. If you can get your hands on one of the original Tickle Me Elmo toys in good, working condition it will be an absolute treasure to the lucky person who receives it as a Valentine's Day gift.

The 90's Box Monthly Subscription – You've heard of a Valentine's Day gift 'that keeps on giving' right? Well, that is exactly what this is. Every month your loved one will receive a box that is jam-packed with some fun items straight out of the 90's. If your sweetheart is crazy about all things 90's then this could be exactly the perfect gift for them on Valentine's Day. Imagine their surprise when they get to open the box and discover items that they remember really well, and some they may have completely forgotten about. Each box contains somewhere between 5 and 8 items and has a retail value of $40 approximately. Items included are officially licensed toys, clothing items, and the best part – snacks! By the time your loved one has received a few boxes they will have quite a good collection of 1990's toys and other items that will help keep their memories of a special decade alive and well. You can choose how many months of subscription you want to give but the more months you sign up for the better the deal you can get. Oh, and the contents of the boxes are a surprise until your loved one opens it!