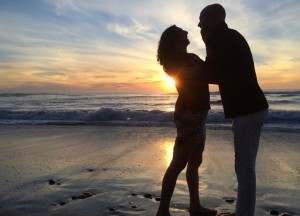 As February 14th comes back around again it's time to find great Valentines gifts for girlfriend or special lady in your life. Although you know her better than anyone, you may find it hard to think of an appropriate and meaningful present this year. You may struggle to decide whether to go with something traditional or whether to push the boat out and choose something a little more unusual. Whatever you do, you want to give her something that she will not only appreciate but will really treasure and cherish as a heartfelt expression of your love and devotion, not just today but on every other day throughout the year. Convey the emotions and feelings inside your heart and find Valentines gifts for girlfriend that are really significant and memorable this year.
Purple Glazed Rose Heart Pendant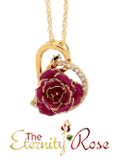 A classic pendant in a romantic heart shape.
Each pendant is encrusted with 21 radiant synthetic diamonds.
Formed using genuine purple rose petals that have been glazed and given a trimming of 24k gold.

Price: $79
Pink Tight Bud Glazed Rose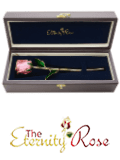 A natural pink rose, picked before full boom, and then glazed and gold trimmed.
The rose has lustrous finish and is accompanied by a certificate of authenticity.
Free express delivery and fast order processing.

Price: $169
Jewelry Valentines Gift Ideas for Your Girlfriend
Jewelry may seem a little cliched, but actually it represents an excellent Valentines Day gift choice for any girlfriend because of its elegant and timeless appeal. Whether she loves traditional styles or prefers something a little more modern and artisan, there is sure to be a piece that she will adore. If you are looking for jewelry Valentines gift ideas for girlfriend or other special lady in your life that combines the beauty of nature with a magnificence of handmade jewelry, why not consider Eternity Rose's pendant and earrings range? Created from real natural miniature roses, each beautiful pendant and drop earrings have been perfectly glazed to preserve the natural splendour of the blossoms and trimmed with a fine 24 karat gold decoration. The pendant is available in two styles, a classic leaf design and also a heart shaped pendant that is a perfect token of love for Valentines Day, while the earrings are lavishly studded with radiant sparkling synthetic diamonds giving each item a touch of class and luxury. What better way to express your love than by presenting her with a piece of art that is also a gorgeous jewelry present?
Floral Valentines Day Gifts for Girlfriend
There are few ladies who wouldn't appreciate a romantic bouquet on Valentines Day. Although flowers may seem too tried and tested to be really meaningful on Valentines Day, if you take the time and effort to choose blossoms that have a special meaning in the language of flowers, you can convey a message of love and passion that will really impress your girlfriend. Roses are a truly ideal choice for your girlfriend this Valentines Day, representing as they do all the devotion and adoration that you would want to reveal to your sweetheart at this special time of year. Be truly romantic and gift your partner with a single red rose blossom – the eternal symbol of true love. Forever linked with passion, this is a present that will touch her heart this Valentines Day and will express your passion.
For all the romance that a single red rose can convey and yet with all the long lasting significance of an enduring memento, surprise your girlfriend with a splendid red glazed Eternity Rose. Every single flower chosen by the talented craftsmen has been especially selected for its unique beauty and it is then turned by hand into a stunning glazed gift that will last a lifetime. Trimmed with the finest 24 karat gold, each glazed flower reflects nature's brilliance and is a true work of art that is sure to be cherished forever when it is placed in a display cabinet or on a mantelpiece in its own prestigious leather case.
Luxurious Valentines Day Gifts for Girlfriend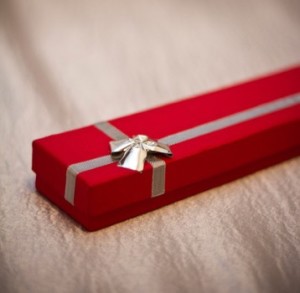 When Valentines Day draws near, you need to take this as an opportunity to show your lady just how much she means to you. What better way to demonstrate your appreciation for your girlfriend than by pampering her with luxury gifts that are as special as she is? One way to make her feel a million dollars is to arrange for her to enjoy a day at a top local spa. Book in some relaxing and luxurious treatments such as a massage, manicure or pedicure so that she feels really glamorous. Alternatively, surprise her with a bottle of her favourite designer fragrance or some high quality top brand cosmetics or beauty products.
Most ladies want to look their best, so if you would like to pamper her with luxury this Valentines Day, give her some beautiful and stylish clothing. An elegant cashmere sweater, an outfit from her favourite designer, or a pair of genuine leather gloves or leather jacket would be the ideal way to express your love. If you want her to really feel like a celebrity, book a special weekend for two in a luxury hotel or resort where she can enjoy the best of everything, in just the fashion that she deserves all year long.