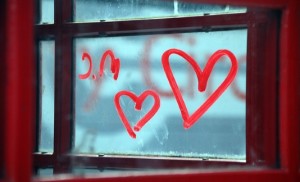 Valentines Day comes just once a year, and as February 14th is on its way back around again, it's time to show your wife just how much you love her. Whether you have been married for more years than you care to remember or whether it is your first year of marriage, you can be sure that Valentines Day is the ideal opportunity to reaffirm your devotion to each other. In the hustle and bustle and ups and downs of married life, it becomes all too easy to take each other for granted and to forget to say those three special words that mean more than anything else you could possibly say.
This Valentines Day, show your wife how much you appreciate her and everything she does for you by surprising her with the perfect Valentine gifts for wife. You know your wife better than anyone, so be sure to select something that is deeply significant to her. Remember that cost is not necessarily an indicator of how much she will appreciate her present, the best Valentines gift for wife are those which touch her heart because of their relevance and their unspoken message of love that is expressed through its giving.
Convey the innermost feelings of your heart this Valentines Day and read on to find more exciting ideas for gift suggestions for your better half.
Purple Glazed Rose Heart Pendant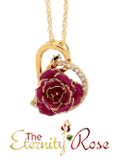 A classic pendant in a romantic heart shape.
Each pendant is encrusted with 21 radiant synthetic diamonds.
Formed using genuine purple rose petals that have been glazed and given a trimming of 24k gold.

Price: $79
Red Glazed Natural Rose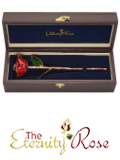 A fine red natural rose that has been hand-cut in its prime, glazed and trimmed in 24k gold.
Presented in a stylish leather display case with crushed navy-blue velvet lining.
The ultimate symbol of lasting beauty and romance, every rose is one of a kind.

Price: $169
Jewelry Valentines Gifts for Wife
You may have given your wife jewelry many times before, or feel that it is too cliched a gift to be a good choice this Valentines Day, however you can rest assured that choosing a piece of timeless and elegant jewelry is a great way to express your enduring devotion. Jewelry is a present that lasts forever and will be worn frequently over the years to come, bringing you fondly to mind every time she takes the item out of her jewelry box. Whether she prefers the classic appeal of a traditional piece or treasures the artisan look of a handcrafted item, she is sure to love the natural splendour of a glazed Eternity Rose pendant. Fashioned by hand by skilled artists from a genuine miniature rose head, each gorgeous pendant is trimmed with a lavish 24 karat gold edging and is presented with a matching gold-dipped chain. Present this opulent token to your wife together with a pair of matching miniature rose head earrings, studded with radiant synthetic diamonds to lend a touch of class to your special Valentines Day gift for your spouse.
Floral Valentines Day Gifts for Wife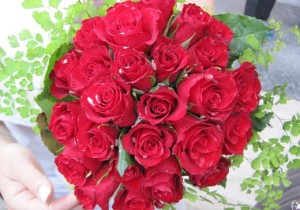 Surprise your wife this Valentines Day with a stunning and romantic bouquet of beautiful blossoms. Floral gifts are sure to be appreciated as long as you put in the time and effort to choose an appropriate display. Whatever you do, don't grab a wilting bunch of flowers from a store on the way home as an afterthought, your wife wants to know that you chose something truly special. Instead, select blooms that have a secret meaning in the language of flowers. Roses are always a good choice, with their expression of love, enduring devotion and fiery passion. Red roses are especially known for their romantic overtones, and the single red rose has been long associated in art and literature with romance and adoration. Present this token of esteem to your love on Valentines Day and show her just how much you care.
To convey all the romance of the single real red rose in a way that will last forever, present your spouse this Valentines Day with a gorgeous glazed red Eternity Rose. Each unique work of art has been fashioned from a true natural red rose picked in its prime and trimmed with a stunning 24 karat gold trim resulting in a one of a kind expression of devotion. What better way to show your undying love than by giving her this wondrous gift embodying all the splendour of nature and combining it with the magnificent of flowers?
Experiences and Treats as Valentines Day Gifts for Wife
The experience day has become a popular gift choice and its easy to see why. There are so many different experiences and activities to choose from that there is certain to be one that suits the tastes and preferences of your wife. If she is a thrill seeker, a theme park day, a parachute jump or a scuba diving lesson is sure to hit the spot, while if she prefers gourmet treats, a chocolate tasting experience, a cookery class or cake decoration course is just up her street.
Treat your spouse to a wonderful meal in a top class local restaurant, or take her for a weekend break at a 5 star hotel in a resort of her choice. Alternatively, book a limo and take her for a drive around town living the celebrity lifestyle.