Whether you are madly scrambling to come up with a Valentine's Day gift that will be a huge surprise to your significant other, or whether you simply forgot and have to go all out to avoid your significant other finding out you didn't spend a long time choosing a Valentine gift, there are some solutions that will have you still being the hero or heroine in the eyes of your loved one. Fortunately, even though it is last minute, there are still plenty of getaways that you can book for the two of you to enjoy.

Pink Tight Bud Glazed Rose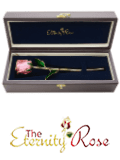 A natural pink rose, picked before full boom, and then glazed and gold trimmed.
The rose has lustrous finish and is accompanied by a certificate of authenticity.
Free express delivery and fast order processing.

Price: $169
Silver-Dipped Natural Rose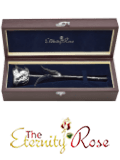 Real rose dipped in pure silver and it has a bright and radiant mirror finish.
An iconic symbol of devotion and eternal love that will endure a lifetime.
The rose is presented in a navy-blue velvet.

Price: $179
Romantic Last-Minute Travel Ideas for Valentine's Day

New York City – Probably not the first place you think of when romance is in the air but that is only because you are either not aware or have forgotten about how romantic it is to ride around Central Park in a horse-drawn carriage. If that isn't romantic enough for you, how about standing at the top of the Empire State Building and looking out over the city? Provided neither of you are timid at great heights it truly is a view that is one in a million. Steal a couple of kisses while you are up there. With all of the museums, theaters, restaurants and shops to enjoy there won't be a shortage of activities to keep you entertained all weekend. Of course you could always grab a bottle of Champagne and a big box of chocolates, and enjoy New York City from the comfort of your bedroom.
Napa Valley – What could be more romantic than a hot air balloon ride that lands you in the beautiful heart of California's wine country, Napa Valley? Of course you can skip the hot air balloon ride if you prefer and just leisurely drive to Napa. When you get there you can enjoy a luxurious spa treatment before dining at any one of the fine restaurants. Other things to do while in the area are check out some of the vineyards and do some serious wine tasting, and take a helicopter tour to get a bird's eye view of the beautiful countryside below. For athletic couples there are plenty of places to hike or cycle, with a leisurely picnic to end your excursion. Don't forget to check out the high-end shops before your weekend is over.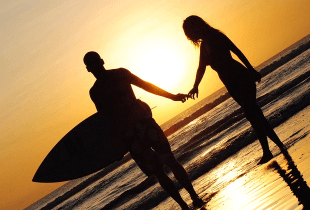 Cape Cod – This is definitely the place to go if you both are big seafood lovers! With many top class restaurants serving a variety of seafood you can really make the most of this charming area. Miles and miles of coastline invite you to wander along the beach and grab a healthy dose of sea air. If the weather doesn't lend itself well to spending an afternoon on the beach check out any one of the great art galleries or get pampered at a spa before dining. Don't forget to fit in some sightseeing as there are a number of beautiful vistas to enjoy as well as the ocean of course. Check out the lighthouses and take a camera along so you can get some great 'selfies' with the lighthouse and ocean as a backdrop.
Further Afield – For those who truly want to get away completely from everything that reminds them of home you can still often grab an international flight last minute. Places like Mexico, the Caribbean, and even some places in Europe are not out of the question for a last minute getaway. Paris is the ultimate place to spend a few days with the love of your life. Enjoy the Eiffel Tower at night and then enjoy intimate dining at one of the 5-star restaurants that Paris is known for. Rome, Greece, and Italy are also great places to spend a romantic Valentine's getaway together.
Adventurous – If you truly have left things to the very last minute and are struggling with what to do or where to go why not rent a Class A motorhome and just drive wherever the mood takes you. Provided you grab a couple of maps and have a good GPS system (most modern RVs are equipped with GPS) then you can make a game out of your travels. Each person gets to choose which way you turn when you reach major intersections or highways. For this to work you need to stay out of the cities and off the freeways as much as possible while on your adventure, but of course you can use the freeways on your way back. See where your choices of turns take you. Find places to stop and explore along the way. You might discover some great little towns that are worth visiting again for a longer stay on your next getaway, or decide that after a day of travelling that you really want to spend the next few days in the spot you stopped at. There are no rules to this form of travel. Just go with the flow and have fun!
Romantic Valentine's Day travels are a unique gift you can make to your beloved. But would be Valentine's Day good enough without a gift to give? Complete the trip by surprising the love of your life with a unique gold dipped rose for her and a gold dipped playing cards for him.