Since men first put quill to paper, and maybe even before that, the art of writing a love letter has long been admired. It takes the ability to express oneself in words that leave no doubt in the mind of the reader as to how the writer feels about them. To express ones eternal love for another in a letter is to memorialize ones feelings for all time.
Greatest And Most Romantic Love Letters Ever Written

✉ Johnny Cash to wife June Carter Cash on her 65th birthday wrote of how in sync he felt they were, but recognized that once in a while they did get on each other's nerves. Johnny went on to tell June that he was incredibly grateful for having had the opportunity to spend his life with her, and that even to that day she was still a source of fascination and inspiration. He even went as far to tell her that she was "the #1 Earthly reason for my existence" and that he loved her very much.
✉ John Keats to neighbor Fanny Brawne wrote of how he believed that his love for her had made him selfish and that he didn't believe that he could exist without her, and that the mere sight of her was enough to make his life seem to come to a standstill. John Keats wrote love letters to Fanny for three years to no avail as they two were never destined to marry due to Keats' lack of financial security and the disapproval of his friends. The letters stopped upon his death in 1821.
✉ Winston Churchill to wife Clementine Churchill ("Clemmie") expresses his undying love and gratitude for the strength of their love for each other. He went on to say that although they had gone through many "tragic and terrible years" their love had endured and was all the better for having weathered the "storms and stresses".
✉ Beethoven to his 'Immortal Beloved' expressed his eternal faithfulness to her, telling her that his heart would always belong to her, and that he hoped that she would never doubt him and would continue to love him as he did her. Just who the 'Immortal Beloved' was has never been confirmed, however some have surmised that it was either Antonie Brentano, a diplomat's daughter, or Josephine Brunsvik, a countess of whom it was believed he was deeply in love with.

✉ Ronald Reagan to wife Nancy Reagan tells her that he feels deeply that they are truly as one, and that she is as vital to his existence as his very own heart. He went on to say that everything he treasures in life would have no meaning if it were not that he was able to share them with her, and that life for him was like living a "permanent Christmas because God gave me you".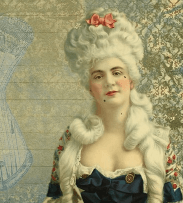 ✉ Napoleon to Josephine wrote how he had been in a constant state of depression since leaving her side, and that he only felt happy when near her. Napoleon's greatest hope was that in time the two would be together until the end of time, when all that he needed to do was to love her, spend all his time with her, and prove to her in every way possible that he loved her with all his heart. He referred to Josephine as "a burning and a glowing flame in my heart".
✉ George H. Bush to Barbara upon their engagement wrote a letter that he said to her should have been easy to write and that the words should have come easily. He wrote of feeling "desperately happy" upon opening the newspaper and reading the announcement of their engagement. George felt that he could not express his feelings adequately in a letter and yet he managed to do so by telling Barbara that "I love you, precious, with all my heart", going on to say that knowing she loved him in return meant the world to him. He then told her that he had been day dreaming often of their lives together, and how he believed that the children they would eventually have together would be blessed to have Barbara as their mother.
✉ Virginia Woolf to husband Leonard Woolf prior to taking her own life wrote of her feeling of going mad and an inability to cope with the voices in her head and lack of concentration. She indicated that she felt to take her own life was the right thing to do in order to prevent her husband from having to watch her suffer any longer. She acknowledged his patience with her and his innate goodness, stating that everyone knew how good he had been to her. Virginia tells Leonard that of all the people who could have saved her if it were possible, it would have been him, but that she must do this in order for his life to no longer be spoiled by her illness.