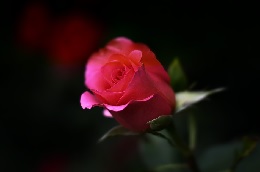 February 14th is almost upon us again, and so you will be starting to think about Valentines Day, and what to buy your wife or girlfriend. You may be lacking in inspiration, or you may feel that you have already given your partner every possible present over the years. Should you opt for something traditional, or something a little more unusual? Should you stick with the tried and tested, or branch out with something more extreme? Selecting something that she will appreciate is paramount, and seeking out a meaningful gift that really touches her heart is the best way to convey your message of love and lasting devotion at this special time of year.

Red Glazed Natural Rose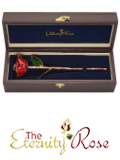 A fine red natural rose that has been hand-cut in its prime, glazed and trimmed in 24k gold.
Presented in a stylish leather display case with crushed navy-blue velvet lining.
The ultimate symbol of lasting beauty and romance, every rose is one of a kind.

Price: $169
Pink Tight Bud Glazed Rose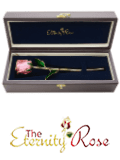 A natural pink rose, picked before full boom, and then glazed and gold trimmed.
The rose has lustrous finish and is accompanied by a certificate of authenticity.
Free express delivery and fast order processing.

Price: $169
What is the Perfect Valentines Day Gift?
There was a time when a simple box of chocolates would suffice as a Valentines Day gift, but these days there are so many choices to select from that it can be more challenging than ever to choose something that will impress. A gift that expresses elegance and beauty while exuding timelessness and acting as an enduring testament to your devotion is the perfect option, but what can you find that ticks all those boxes? It's never been more important to find a token that symbolises your affection and your appreciation for everything your partner is and does for you all year round.
Choosing Valentines Day Roses
There can be few more traditional symbols of love on Valentines Day than a floral gift. For generations, lovers have exchanged flowers on February 14th to demonstrate their love for each other.
In the 19th century, the language of flowers was well known, and couples would exchange messages of adoration with each other by choosing the perfect blossoms to reflect a meaning. The rose is a particularly significant blossom, symbolising love, appreciation and lasting devotion to the recipient. There is no more well known token of love on Valentines Day than the single red rose presented to the love of your life.
This Valentines Day, why not go for a classical symbol of love by surprising your loved one with a beautiful bouquet of hand-cut fresh flowers? Whether you opt for traditional roses for Valentines Day or some other type of blossom that is her favourite type, she is sure to be impressed by the natural splendour of the graceful blooms.
Living Roses for Valentines Day
If you would prefer long lasting Valentines Day roses for your loved one, and she has a talent for gardening, you may want to present her with a lovely flowering rose bush. The gift that keeps giving, your wife or girlfriend can nurture this thoughtful gift in a window box, planter or garden, so that her rose bush will flourish just as long as your enduring love.
Choosing Long Lasting Ornamental Roses Valentines Day Gifts
Although a bouquet or single rose blossom has its own radiant splendour, unfortunately it only lasts a short time before fading and withering with age. A flowering rose shrub will last longer, but is only really suited to a recipient with green fingers. If you love the idea of surprising your partner with a beautiful floral gift but would prefer something that will last a little longer, why not consider giving your other half a gorgeous Eternity Rose true natural rose blossom that has been picked at the very peak of its perfection and preserved in either a complex and intricate glaze or dipped in the most luxurious of precious metals? There is no more long lasting or significant token of your love, and your chosen flower will remain as beautiful for a lifetime as it is on the day it is given.
The beauty of nature has long been captured in art across the centuries, and now you can give a gift that embodies the very essence of this splendour. Every blossom has been specially selected for its gorgeous appeal and hand-picked in its prime. It is then crafted by hand by talented artisans in a complex and intricate process to perfectly preserve its splendour.
There is a choice of luxurious and opulent 24 karat gold-dipped, pure silver-dipped or platinum-dipped flowers for a hint of true magnificence, or colourful glazed blossoms, each featuring a stylish 24 karat gold trim. There are so many different shades to select from, including traditional reds, whites and pinks to more vibrant and modern choices like black, green and purple, that there is sure to be an ideal flower for every gift.
An ornamental Eternity Rose blossom is presented in its own stylish leather display case, so it is ready to display in a cabinet or on a mantelpiece in any room of the home. For years to come, your symbol of love will be showcased in her house and will bring happy thoughts of you to mind whenever it is seen, bringing a hint of magnificence and splendour to the space.
What better way to show your wife or girlfriend how much they are loved and cherished this Valentines Day than by surprising her with a beautiful gift of roses? Reflecting her own special beauty and timeless appeal, a rose is the ideal symbol of adoration at this important time of year, and will reveal to her, better than any other present, your innermost feelings and sentiments of passion and devotion, not just today but every day of the year.