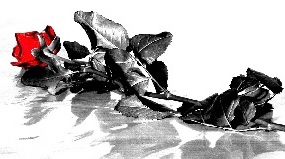 February 14th is almost upon us, and as Valentines Day approaches, the time is coming around again to think about buying presents for wives and girlfriends and selecting something that will really touch her heart. While it may be tempting to simply rush to the store at the last minute and pick up a simple box of chocolates or bunch of wilting flowers, if you want to really impress the woman in your life and demonstrate to her the extent of your devotion, you will need to put a little more thought and effort into choosing a gift that reveals your real sentiments.
A heartfelt present is the best way to show your partner that she is truly appreciated, not only on Valentines Day, but all year round, even if you sometimes forget to say those three special little words "I love you".

Purple Glazed Rose Heart Pendant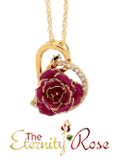 A classic pendant in a romantic heart shape.
Each pendant is encrusted with 21 radiant synthetic diamonds.
Formed using genuine purple rose petals that have been glazed and given a trimming of 24k gold.

Price: $79
24k Gold-Dipped Natural Rose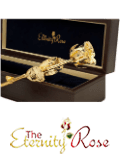 A natural rose dipped in 24 karat gold.
It perfectly combines the beauty of a rose and the majesty of fine gold.
Presented in an exquisite leather case, and comes with a certificate of authenticity.

Price: $179
Why Choose Jewelry as the Perfect Valentines Day Gift?
Since time immemorial, one of the top Valentines gifts for wives and girlfriends has been jewelry. It is easy to see why a Valentines jewelry gift is such as good choice. While many other presents, like chocolates or bunches of flowers may be pleasing, they do not last very long. Jewelry, on the other hand, will last a lifetime, and whenever she takes it from her jewelry box, she will think of you with genuine affection.
Jewelry is also a useful and pleasing gift. Choosing a timeless and elegant item of jewelry will ensure that it can be worn time and again for many years to come and it will complement any outfit, whether every day or for a special occasion.
What Sort of Valentines Jewelry Gift Should I Choose?
If you have finally come to a decision to choose a beautiful Valentines jewelry gift for your wife or girlfriend, you then have to choose a style and type. Be guided by your knowledge of her tastes and preferences and go for something that you can be certain she will appreciate. Is she more likely to wear a pair of drop earrings or studs? Would she prefer a pendant or a bracelet? Opting for something that is in line with her sense of style is the best way to guarantee that you are selecting an item she will treasure.
Choose Timeless and Elegant Pendants
A pendant or necklace is one of the best choices for your partner when you are looking for a Valentines jewelry gift. There are so many different styles to select from, whether a simple gold or silver chain, a gemstone studded affair or a contemporary or artisan crafted one of a kind piece. If you are uncertain of your partner's tastes, or would like to choose an item of jewelry that is timeless and yet elegant, you should consider the Eternity Rose range.
There is no better way to show your partner just how much you care than by surprising her with one of these opulent yet surprisingly wearable necklaces. Their elegant detailing and unique design ensure that they are perfect for both women who prefer classical themes and those who like more contemporary styles. Every Eternity Rose pendant is crafted from a genuine miniature rose head, perfectly preserved in an intricate glaze and trimmed with purest 24 karat gold. They are available in a range of colours and in two styles to ensure that every recipient receives something they will cherish. From traditional red to stylish white, and from vibrant blue and purple to pretty pink, there is a pendant for every woman, and with their radiant synthetic diamond detailing, they are sure to be a sparkling treasure for Valentines Day. Whether you choose the classic leaf design or the gorgeous heart shaped pendant, she will delight in receiving such a magnificent token of esteem.
Select Gorgeous and Feminine Earrings
Many women love to receive earrings as a Valentines jewelry gift because of their versatility. Stud earrings add a touch of class to any outfit, while drop earrings are able to make a statement. Your partner is sure to appreciate such a thoughtful present and will find plenty of opportunities to wear your gift frequently over the coming weeks, months and years.
For an unusual and yet effortlessly elegant choice of drop earrings, why not select one of Eternity Rose's two earring styles? Both the classic leaf design and the sparkling, synthetic diamond studded ring style perfectly complement the beauty of the miniature glazed true rose head and result in a work of art that can be worn on any occasion.
Choosing Another Valentines Jewelry Gift for Women
Perhaps you feel that your partner would prefer a different style of jewelry? Valentines Day could be the ideal opportunity to present your partner with an eternity ring to reaffirm your passion in your relationship.