Celebrate the love you feel for your man this Valentine's Day by going out of your way to make it just perfect. A successful Valentine's Day results from thoughtful planning and paying attention to the small details that you know matter to him. Every man that plays poker is a poker star, so show him how much you support his play with one of our Valentine's day gifts chosen as the perfect gift for any poker player.
Deluxe Solid Wood Poker Table Top with Case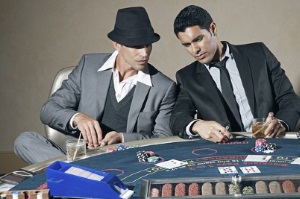 Help your man challenge friends and hold tournaments in the comfort of his own home with a folding tabletop poker table. With a large design that seats eight players comfortably, a solid wood table comes with drink holders and molded chip trays for that authentic Vegas feel, and folds for easy storage and transport in the included black vinyl storage bag. The green felt playing surface includes a blackjack insurance screen printed right on the playing surface.
Casino 6-Deck Automatic Card Shuffler
A 6-Deck Automatic Card Shuffler is a super fast way to shuffle cards, so you can get back to the game in no time. Simply load half the cards to be shuffled into the left side, half into the right side and push one button. Within seconds, your cards are shuffled and ready to deal. Works with up to six decks of standard poker-sized cards or narrower bridge-style cards. This is the perfect gift for someone who struggles to shuffle cards.
24 Karat Gold-Dipped Poker Cards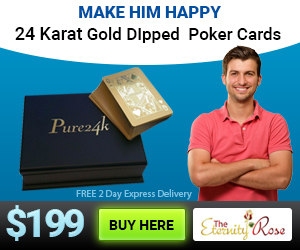 We already know that every man that plays poker is a poker star. Show him that you know he's a winner with a playable deck of poker cards dipped in 24 karat gold. Bypass the cheap gold foil cards and gift a set of hard wearing, tournament-standard, full-size poker playing cards contains a full deck of 54 cards including both jokers. A 24 karat gold set has a refined and impressive appearance thanks to its brilliant 24 karat gold electroplating. Whether he chooses to use this luxurious deck for a regular poker night or would prefer to have them on display, these cards are sure to impress. Encased in a dark green velvet-lined cherry wood presentation box and finished to the highest specifications, this is likely to be the best and most unusual Valentine's day gifts to date.
A pair of handmade jeans
It is very romantic to be supportive of your lover's interest in poker. With your man playing the tables in tournaments, he wants to look the part and be comfortable. Denim start-up company Mott & Bow lacks the name recognition of more established labels we have all come to trust, but it has quickly gained a following among men for its "meticulously hand-crafted" and "ridiculously comfortable" designer-quality jeans. Show how much you care with this unique Valentine's day gift.
Stetson Men's Sturgis Pinchfront Crushable Wool Felt Hat
Any poker player will look dashing in a hat and a slick Stetson might fit the bill for your lover. For travel to tournaments and everyday, he will appreciate the versatility of this crushable hat. Made from water-repellent wool felt, it will keep him dry in inclement weather. The four inch pinch front crease hat crown features eyelet vents, while the brim is a generous 3 1/4 inches wide and it has a 100 percent wool fabric mesh sweatband. If a felt cowboy hat is not his fashion style, consider a fedora.
Six Pack Greeting Card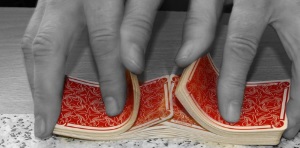 Make his next poker night special with a gift of craft beer with an innovative six-pack carrier and greeting card in one. You can write your own Valentine's day love note and select from a choice of craft beers that he can share with you or his poker playing friends. There may be no better way to say "I love you" to your beloved.
Chocolate Tasting Squares
When it comes to Valentine's day, it's all about indulging your special guy and chocolate is a great way to enhance the romance of the day. Premium chocolate box sets to go along with some delicious red wine can include Extra Dark Chocolate, Bitter-sweet Chocolate, and Semisweet Chocolate. Scharffen Berger chocolates are gluten free and certified kosher, with a box including 48 tasty treats, each individually wrapped for savoring a bit at a time.
The Manteen – Insulated Stainless Steel Water Bottle
Made for a man's man, this quality stainless steel water bottle lets your lover enjoy drinking cool clean water, beer or a bloody Mary when he's at a poker tournament. At 10 inches tall, the Manteen will fit in most car cup holders (filled with water only, of course.) But for his more sporting outdoor pursuits, it will keep his beer, or adult beverage of choice, cold all day long. To make it an even more versatile gift for your husband, or boyfriend, the Manteen also keeps coffee hot and will prevent spills too.